On November 7th, International Automation Show was held grandly in Shanghai. As a representative enterprise of China's Artificial Intelligence industry and technological commanding height, Shanghai PartnerX Robotic Co., Ltd. (hereinafter abridged as PartnerX) entered the Artificial Intelligence zone. PartnerX brought its Abilix education robots to the public. Many high technologies contained in them have attracted wide attention from participants and the media.
Miao Wei, vice-minister of Industry and Information Technology, and Ying Yong, mayor of Shanghai spoke highly of the project display of Abilix's educational robots.
Block Series krypton has original six-sided construction system, revolutionary touch screen, voice recognition, touch recognition and other interactive modes. Mobile Series Oculus has powerful computing power, voice recognition and image recognition capabilities. Humanoid Series Everest has a multi-degree-of-freedom humanoid bionic design, which can imitate human walking, turning, obstacle avoidance, dancing and so on. Modular Series Boya has unified dynamic and non-dynamic joints. It can create multi-degree-of-freedom humanoid robots, robotic creatures, etc.
Abilix has more than 600 patents for authorized and applied inventions, which are the leading patent in the field of educational robots over the world. Moreover, these products have a unified system architecture, unified brain, unified four major programming APPs, unified voice recognition, face recognition and image recognition engine, unified Abilix application store and skill store. The high technologies contained in Abilix's education robots represent the commanding heights of ArtificiaI Intelligence industry and technology.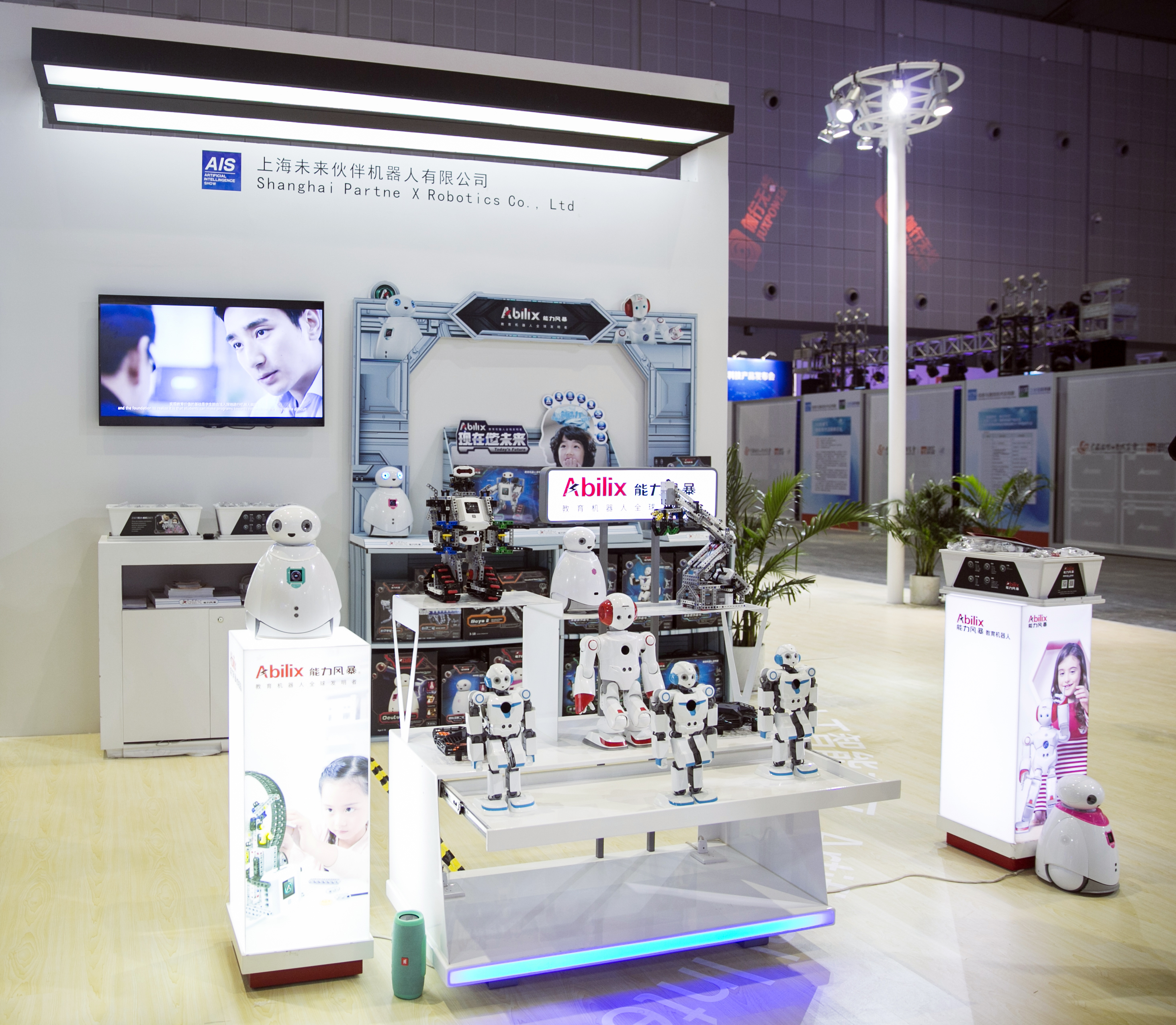 The CEO of PartnerX said, "Educational robots are not simple toys or boring teaching aids. They are a scientific education system with enough space for project design, development and multi-dimensional training of children's success accomplishment. Educational robots are not only interesting and popular with children, but also cultivate children's creative, analytical and practical abilities in the process of designing, constructing and debugging creative projects and analyzing programs.
International Automation Show was established in 1999 and has become an important platform for China's industrial field to embrace the world and conduct economic and trade communication and cooperation. The theme of this exhibition is "Innovation, Intelligence and Green", with special artificial intelligence zones set up here. Abilix from China, ABB, Fanuc, KUKA, YASKAWA, Staubli, and many other well-known Chinese and foreign robot brands participated in the exhibition.